Qingdao Shuangrui Marine Ammonia Fuel Supply System Won the World's First CCS and LR Classification Society AIP Certificate
Recently, Qingdao Shuangrui's independently developed marine ammonia fuel supply system (AFSS) has won the world's first certificate of principle recognition (AIP) from China Classification Society (CCS) and Lloyd's Classification Society (LR). The successful development of AFSS is another major breakthrough made by Qingdao Shuangrui in the field of ship clean energy supply system after the marine LNG gas supply system and the marine methanol fuel supply system.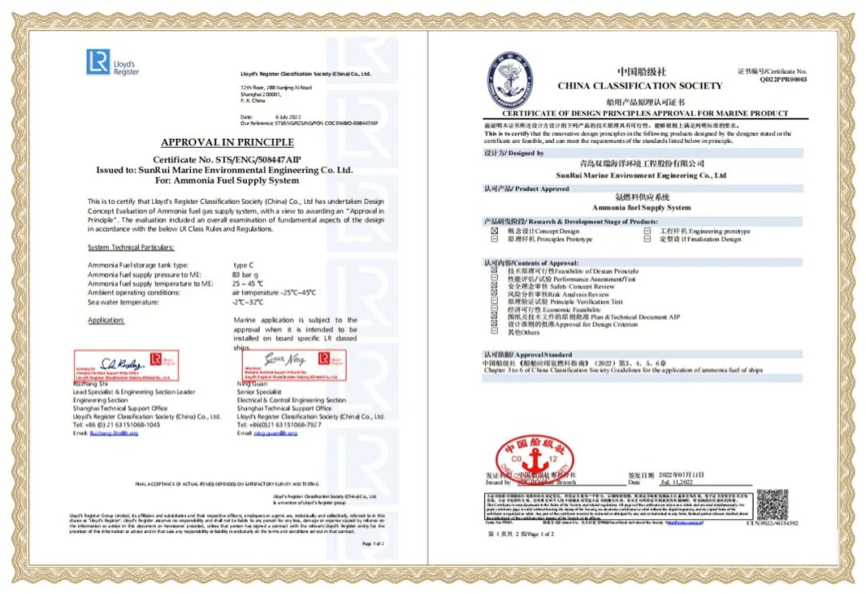 At present, the industry generally believes that ammonia is one of the fuels with wide application prospects on the road of green and low-carbon transformation in the shipping industry. In this context, Qingdao Shuangrui and LR Classification Society signed a strategic cooperation agreement to carry out technical cooperation in the field of marine clean energy applications such as ammonia fuel.
Through continuous technical research, Qingdao Shuangrui has developed AFSS with completely independent intellectual property rights, breaking through key technologies such as liquid ammonia filling, fuel storage, fuel supply, and ammonia treatment, forming a "two-stage temperature regulation, two-stage pressurization and One-stage filtration" supply technology route. The system is mainly composed of filling unit, ammonia fuel storage unit, heat exchange and supply unit, ammonia gas processing unit, security and monitoring system, control system and other units. It is suitable for MAN-ES company's two-stroke ME-LGIA ammonia fuel engine and WinGD company's two-stroke ammonia fuel engine.
Due to the toxicity and corrosiveness of ammonia fuel, during the certification period, China Classification Society, Lloyd's Register and Qingdao Shuangrui focused on the key links of ammonia fuel filling, storage, supply, ammonia treatment, ventilation and layout. AFSS conducted a comprehensive risk assessment, identified the hidden safety hazards in each link, discussed the corresponding protective measures, and rated the risks to ensure the safety and reliability of AFSS design.
In recent years, Qingdao Shuangrui has taken "resource conservation and environmental protection" as its development direction, and has successively developed a series of products such as ship exhaust gas denitration system, ship exhaust gas desulfurization system, ship LNG gas supply system and ship methanol fuel supply system, and has accumulated a wealth of technology. Application experience has been highly recognized by customers. The successful development of AFSS and the certification of CCS and LR Classification Society principles mark Qingdao Shuangrui to a new level in the field of ship clean energy applications. Under the historic opportunity of carbon peak and carbon neutrality, Qingdao Shuangrui will continue to uphold the original mission of "continuously improving the marine environment through science and technology and innovation" and contribute China's strength to the green development of the global shipping industry.
END
the exclusive article on China's ship inspection, please indicate the source of "China's ship inspection or international ship media". Violators will be prosecuted!